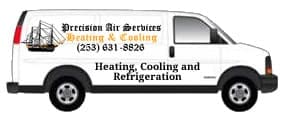 There are many things that people can live without on a day-to-day basis. However, depending on their geographical location, most people need a heating and cooling system that can keep them cool during the hot summer months and warm during the cold winter months.
At Precision Heating and Air Conditioning, we provide an array of heating and cooling services for people living in the In Tacoma, Federal Way, Tukwila, Kent, and Seattle Washington area. We understand the importance of providing quality services regarding heating and cooling systems.
No one likes it when their heating system stops working during the middle of December when the temperature is close to 20 degrees. However, if the situation ever occurs, Precision Heating and Air Conditioning have a team of highly qualified technicians who are trained in installing, repairing, and maintaining a wide range of A/C systems. In addition, we are ready and professionally equipped to help regarding any operational problems related to heating systems that are known to occur at the worst possible times such as the coldest day of the winter season.
At Precision Heating and Air Conditioning, we are a licensed, bonded, and insured company that can recommend the best heating or cooling system for any situation. Moreover, our trained heating and air technicians understand all aspects of heating and air, so we can solve a variety of problems related to heating and cooling operations either residential or commercial in nature.
Our Residential heating and cooling services

Installing Carbon monoxide detectors.
Installing Energy-saving thermostats.
Maintenance.
Heating systems.
Humidifiers and dehumidification systems.
Standard, medium, and high-capacity air filters.
Central cooling systems.
Troubleshooting and diagnosis.
Service and replacement for all systems.
Repairs for all major brands of equipment.
Preventive maintenance agreements.
Adherence to strict EPA refrigerant guidelines.
Freon leak detection.
Heat loss analysis.
Furnace Repair and maintenance.
Electronic Air Cleaners.
Heat Pump Installation and Repair.
Air Conditioning Installation and Repair.
Maintenance /Tune-ups.
Ductless Heating and Cooling.
Commercial Refrigeration a Repair and Installation
Walk-In Coolers, Freezers, and Refrigerated
Installation, repair, and maintenance for stores, bars, and convenience stores
Walk-In Coolers, Freezers, and Refrigerated cold storage
Ice machines all brands
Store deli coolers
Commercial Reach-in coolers
Prep tables
In addition, we understand that heating and cooling needs do not keep a time schedule, so we are available 24 hours a day, 7 days a week. Most people have complex and full lives that keep them very busy. Whenever people have problems or needs concerning heating and air, they want a company that can provide quality prompt service at reasonable prices. Precision Heating and Air Conditioning is that company. Free No Obligation HVAC Quote