New Heat Pump Installation Services King and Pierce County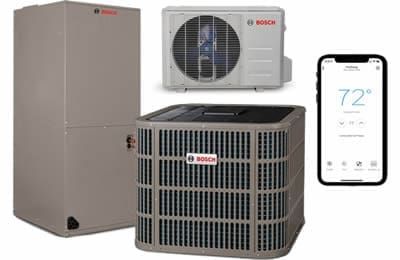 Heat pumps of today are not only highly efficient in the way that they accomplish home heating, but they are also extremely versatile because they can also provide cooling service during the warm seasons of the year. At Precision Air Services, we offer some of the best energy-efficient heat pumps on the market, and our HVAC specialists are well trained, so they can carry out proper installation, according to our own exacting specifications. If your heating system is older than 10 years, you may want to consider having a brand new heat pump installed, so as to take advantage of the high-efficiency performance of a modern heating system, as well as to use it for the cooling season.
Why choose us?
Of course, there are other HVAC companies in the Western Washington state which might provide decent products and adequate service as well, but we think that once you've experienced the kind of dedicated customer service, superior products, and affordable prices we can deliver, that you'll want to make Precision Air Services your 'go-to' HVAC and heating contractor. With our company name behind every product that we install, nothing less than the best products and services are acceptable, so we strive for 100% customer satisfaction every time we take on a new installation.
The Bosch Heating and Cooling Brand
Since our heating and cooling contractor operation was founded over 20 years ago, we have provided the best products and services to our fellow Washington state residents and businesses, and our reputation for reliability, along with the excellence of the Bosch brand itself, has helped us to grow our business over the more than three decades since then. Bosch products are completely designed, engineered, and manufactured in Germany, which means you can count on the high quality of German-made components and overall systems. We stand behind our complete line of Bosch heating and cooling products, and we are proud to associate our brand name with that kind of quality.
Quality now and in the future
At Precision Air Services, we recognize that because our brand name is attached to our product lines, that everything we sell has to be of the highest quality, and that it must provide the utmost efficiency in serving your household or commercial facility. That's why we are so committed to offering only the best to our customers, and why we allocate significant resources to ongoing research and development that will lead to even better products in the future. No product is good enough for our customers until we have tested it at our own facility, for the kind of reliability, performance, and high efficiency that will meet the tough demands of our customers.
Our service area
Precision Air Services services a broad area between Bellevue and Tacoma, taking in all the communities in the region surrounding those two cities. If you have any questions about whether or not we cover your city or town, please contact us with your inquiries. We'll be glad to discuss all heating and cooling solutions with you, especially with regard to heat pumps and heat pump installation.
Like any other appliance, a heat pump goes through wear and tear and will need to be replaced just as a furnace would. Also as time goes on a unit can become less efficient. A heat pump efficiency is rated on the Seasonal Energy Efficiency Ratio scale or SEER. This number equates to the actual cooling output during a certain season and this is based on the energy input of a certain unit. The higher the rating, the more efficient the unit is. Upgrading from a heat pump with a rating of 9 to a rating of 13 can save upwards of $300 per year. Considering an upgrade replacement of your existing unit can not only pay for itself in a short amount of time but save you a great deal of money over the lifetime of the unit. Your average heat pump is designed to last between 10 to 15 years according to the United States Department of Energy.
Some signs heat pump installation replacement is in your future:
-Higher than normal energy bills
-Inconsistent temperatures throughout the home
-Your heat pump is over 10 years of age
-You notice noises or damage to your heat pump
Heat pumps are a bit more 'green' than say an entire HVAC unit. Instead of burning fuel to heat or cool your home, this pump uses what's in the ground to keep you comfortable. Ideally, a heat pump works best in a climate that doesn't have extreme heat or extreme cold. Northwood Heating is experienced with installing and replacing heat pumps all over the Spokane, Washington area. Whether you are looking to install a new unit or replace your current heat pump, our professional and knowledgeable staff can help you keep your home comfortable while minimizing your heating and cooling costs. We offer efficient heat pump units with impressive warranties.
The best course of action for any new heat pump installation
By contacting Precision Air Services a heating & air conditioning company, the greater Federal Way, Kent, Tukwila, and Tacoma homeowner has access to the professional technicians who have been providing quality, on-time customer service since 1993. Inspections, repairs, evaluations for additional or different equipment, and suggestions about saving energy costs, along with a new furnace installation for the comfort every homeowner needs is just a phone call away.