Daikin Ductless Emura home heating
Even in the moderate climate of the American Northwest, the weather can sometimes be warm enough that a really efficient system of cooling is needed for the home or office. But Washington residential and commercial customers in Redmond, Covington, and Kent, want more than efficiency – they want a modern design, with unobtrusive equipment that fades into the background, and has the same kind of 'intelligence' that modern technology has incorporated into many other features in the home or business setting. They want Daikin Ductless Emura.
What does Daikin Emura cooling systems have to offer?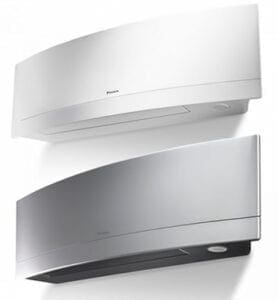 Daikin ductless systems are true next-generation product offerings, that exemplify the innovative spirit pioneered by Daikin in the world of heating and cooling products. Daikin Emura is a perfect example of this forward-thinking engineering, and the advantages provided by this new age cooling system make it the ideal system for now and for the future.
Modern design – with a smooth, curved external surface, the Daikin Emura blends right into the wall to match existing decor without giving a hint about its actual functionality.
Quiet performance – with an operational noise level of about 19 decibels, the Daikin Emura is nearly silent, so it won't disturb household members or office professionals, even running at peak level.
Smart technology – its embedded smart technology enables Emura to reduce power consumption when no room occupants are detected for a specified period, and power up when activity is sensed again. If this feature is used on a regular basis, it can result in significant energy savings, as well as increased comfort for occupants.
Ductless system – since no ducts are needed for installation, it becomes very easy to install and service the system, and there is no possibility of ducts becoming clogged with debris to reduce system effectiveness.
Improved filtering – Daikin heating and cooling systems feature vastly improved filtration systems which can easily be washed and re-used, so that air quality can be kept at a very high level, thus providing a health benefit as well as comfort.
High SEER, HSPF ratings – with up to 18.9 as a Seasonal Energy Efficiency Rating (SEER), Daikin Emura has an extremely good ratio of cooling provided vs. energy consumed, which makes it a very economical system to operate. During the heating season, the Emura's 12.5 Heating Seasonal Performance Factor (HSPF) is a superior 12.5, measuring its BTU heating output vs. electricity used to generate that heat.
Temperature control – Daikin heating and cooling systems like the Emura have a wide range of temperature control: between 14 degrees and 115 degrees Fahrenheit for cooling, and between -13 degrees and 75 degrees Fahrenheit for heating.
Versatile control – a wireless control is standard for the system, but when using the Daikin Comfort Control App, the entire system can be operated remotely, even if you're somewhere on vacation!
Next-generation look and functionality
Daikin Ductless Emura offers what many businesses have sought for several years now – a contemporary design, with unobtrusive presence, combined with new age operation and intelligent functionality. Available in several colors to match the interior decor of almost any work area or residence, the versatility of Emura makes it suitable for any environment.
HVAC comfort systems have finally entered the modern age, and at the forefront of companies offering products that embody efficiency, intelligence, and modern design, Daikin heating and cooling equipment stands alone.