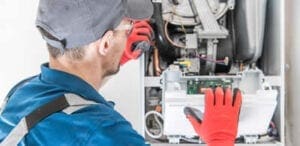 To keep your heat pump system working at optimal performance, we recommend routine maintenance with a professional heating contractor.
These units are frequently chosen by residential and business owners in Maple Valley for their efficiency and power to keep up with their needs.
Our factory-trained and certified heating contractor technicians are experts in maintaining these heating and cooling units to ensure reliable and efficient service. And keeping it in tip-top shape with routine maintenance can reduce your energy costs by as much as 25%!
These are important reasons for you to schedule regular maintenance services:
Reduction in heat pump repair costs
Greater energy-efficiency
To extend the life of your unit
Warranty protection
Improved comfort throughout your home or business
Call us today to schedule maintenance services to help your equipment achieve its highest efficiency and reduce your energy costs.
We have years of experience with high-efficiency heat pump systems and their reliable performance.
With the wear and tear that these units are called on to absorb all year long, they do require occasional heat pump repair.
As a reputable heating and air conditioning contractor service company serving homes and businesses in Maple Valley, our factory-trained and certified technicians are experienced in identifying and resolving problems on all major brands.
These are a few clear indicators that it is time to schedule an appointment with us:
Loud noises like clicking or grinding
The system appears to be locked in either heating or cooling mode
Icing
Airflow reduction – lower volume than normal
Good airflow but the reduction in heat – potential refrigerant leakage
Spike in energy costs
Suppose your system has outlived its useful service and a replacement is needed. In that case, we can provide technical assistance to help you make a wise choice, provide a new heat pump installation, and complete the project with a full inspection. Call today to schedule an appointment with our specialist!
Maple Valley Heat Pump Installation
If you have just learned that your heating and cooling unit can no longer be repaired and you are considering a new replacement, call us!
We provide expert heat pump installation services, but our trained specialists have in-depth product knowledge that includes state-of-the-art technology and the latest innovations to help guide you through the process of choosing a new heating and cooling unit.
We can help Maple Valley residents with:
An unbiased selection process because we service all major brands
Factors to consider such as efficiency, cost, and comfort
Load calculation to gauge proper sizing for maximum efficiency
An explanation of SEER and HSPF ratings
Zoned heating and cooling concept
Benefits of supplemental backup burners
Two-speed compressor considerations
Variable speed motors on fans and blowers for maintaining consistent air velocity
…and more
Call Precision Air HVAC contractor services to schedule an appointment with a specialist that can guide you through the buying and installing decisions (253) 631-8826