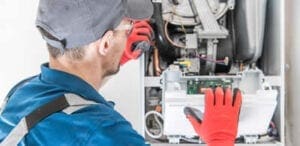 When your furnace is not working in the cold winter months you need help quickly. You need the help of an HVAC company that knows how to work on any type of furnace, either gas or electric.
Only a company that has the experience and versatility can have your home or business comfortable so your family and employees are warm. Precision Air is an experienced company that provides high-quality furnace repair services for Kent, WA residents.
Being an established company, we not only offer the best in furnace repair for area residents by also the following furnace services:
Inspection
Maintenance
New installation
Our technicians are equipped with the latest equipment and technical knowledge that allows them to provide the required furnace repair service exactly when needed and affordably. You can be assured of our furnace service as we use genuine factory furnace repair parts.
Furnace Service Kent
Maintaining your furnace in good condition will ensure minimal furnace repair. Relying on a company that is knowledgeable, licensed, bonded, and insured gives you the peace of mind you deserve.
We have been providing regular furnace service maintenance for Kent residents for a long time. We provide the best furnace service following the industry's most complete furnace maintenance checklist.
You can call us for furnace service as we have:
The latest equipment
Efficient workforce
Several years of experience
With us as your company for furnace maintenance service, you need not worry about anything. From natural gas furnace maintenance to cleaning an electrical furnace burner, our technicians can handle everything. So, whenever you need a reliable furnace service, think of us.
Kent Furnace Installation
When it is about the comfort of your family, you do not want to compromise. Having your new furnace installation done by a professional HVAC company is one way to ensure the comfort of your family or employees.
With the availability of several companies offering furnace installation in Kent, choosing the best one can be a challenging task. Nevertheless, you should us for your new furnace installation in Kent as we are:
Credible
Affordable
Licensed and insured
We have worked hard to earn the trust and confidence that we are the area's best HVAC company to call.
If you are considering a new furnace or have concerns about your existing furnace in your Kent property, call Precision Air Services at (253) 631-8826.