Furnace Repair Covington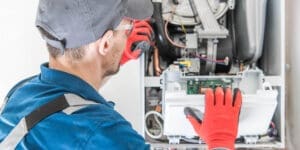 The Winter season will be here before you know it. Are you sure your furnace is working correctly? To ensure that your family and friends don't have to sit in the cold, you need to know that your furnace and heating system are working effectively. To make sure it is, call Precision Air Services Inc in Covington, WA. With a certified team of trained technicians, we proudly provide our furnace repair services in your area. Our technicians first diagnose the root problem for uneven heating and perform furnace repair and maintenance services accordingly. We also offer other services, including:
Gas furnace installation
Ductless Heating and Cooling
Heat Pump Installation
The best way to keep your furnace running efficiently is to have it inspected before you need it. So before the winter begins, please book an appointment with our furnace repair experts to have your heating system checked.
Furnace Service Covington, WA
The furnace system is responsible for controlling the temperature and for moving air throughout your home. A well-functioning furnace system helps in filtering out dust and allergens. A timely preventative furnace maintenance service for Covington homes is necessary to keep your HVAC functioning at its peak performance. When is furnace service required?
If duct work is loose
In case of abnormal thermal expansion
In case ducts have contracted
To lubricate blower motor bearings
Our technicians are fully equipped to handle furnace service work. The team is skilled at handling furnace repair issues and performs timely furnace service to bring your system up to its best working order.
Contact us today to schedule furnace service and maintenance service for heating, air conditioning, gars or electrical furnace repair.
Covington Furnace Installation
Serving Covington residents for years, we are a trusted name as our furnace installation team is skilled at working with models of different brands. You should hire us because we have:
A team of certified technicians
Ability to diagnose issues
Gas furnace solutions
Work on electric furnaces
Offering our residential and commercial customers a vast range of services designed to improve their home or business's energy efficiency and comfort, we are masters at furnace installation and use innovation, technology, and creativity to help our customers lead a comfortable life. We perform furnace installation in King County Covington, WA. Find furnace repair, furnace service, and new furnace installation services for Covington homes and offices with Precision Air Services HVAC. Call us at (253) 631-8826.