Precision Air Services has been in the business since 1990 and offers environmental solutions for your home and businesses. Our state-of-the-art green technology will update your air conditioning unit in the Covington, WA area. As a result, you can save money on your energy bills with a new air conditioner.
We are the area's most reputable air conditioning repair service and ensure timely installation, maintenance, and repair services for your home and business. Apart from installing a new air conditioner, we also perform:
Diagnostics
Maintenance services
Thermostat installation and replacement
Fan and compressor control failures
We deal with all air conditioning brands available in the Covington region. Give us a call for any services such as new AC installation, maintenance, replacement, etc.
New Air Conditioner Covington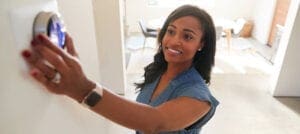 Call us immediately if you want to install a new air conditioner at your Covington residence. Our team of factory-trained technicians will visit your place and take care of your new air conditioner installation requests. In addition, we are happy to offer you answers to any questions you may have about your new air conditioner.
You can also hire us to run a check on your old unit before deciding to install a new air conditioner. Common problems with air conditioning units include:
Low refrigerant charge
Poor service procedures
Refrigerant leaks
Inadequate maintenance
If we find that your old air conditioning unit is not working, we suggest you consider a new AC installation. Call us to learn the approximate central air conditioner prices for your residence or commercial property.
Covington New AC Installation
Save yourself from the summer heat by having a new AC installation completed soon on your Covington property. Having a new AC installation done is a significant investment on your part. However, you want it to be done in the proper way. We can help you select the best option depending on your household or commercial needs.
Pick the brand you love, and let us do the new AC installation. If you want to know the cost of an AC installation, call us. We offer world-class services at reasonable prices and use genuine parts and tools while performing maintenance and repair.
Hire us to receive:
Professional assistance
Proper installation
Great customer care service
Precision Air Services HVAC is the trusted name in Covington for new AC installation. Call us at (253) 631-8826 for any air conditioning services.