HVAC Heating Contractor Service Puyallup, WA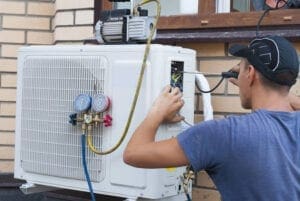 Are you in need of a reliable and experienced HVAC contractor for heating services in Puyallup, WA? Look no further than Precision Air Services HVAC! Our licensed, bonded, and insured family-owned and operated business offers top-notch HVAC installations, maintenance, and repairs with industry-leading warranties.
Our hassle-free customer experience, fast no-heat response times, and avoidance of subcontractors make us the go-to choice for HVAC services in Puyallup. We repair nearly all makes and models of HVAC components, including air conditioners, furnaces, air purifiers, humidifiers, and heat pumps. Our comprehensive HVAC repair services ensure high-quality workmanship every time.
To avoid emergency HVAC repair, we also offer periodic heating and air conditioning service programs in Puyallup, WA, that optimize indoor comfort and save you money on energy costs. Our trained and professional technicians customize heating and air conditioning service plans to meet your needs and budget.
Experience the benefits of our services, including fewer breakdowns, longer system lifespan, and improved system performance. Contact Precision Air Services HVAC today at (253) 631-8826 to schedule your heating and air conditioning service appointment in Puyallup, WA.