Furnace Repair Bonney Lake, WA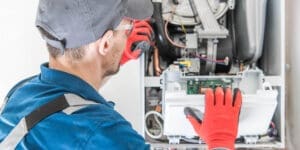 Did your furnace go out – again? When your furnace breaks down unexpectedly, you need a fast, reliable HVAC contractor to perform furnace repair in your Bonney Lake, WA home or business.
That is when you need to call Precision Air Services HVAC. Since 1990, we have provided homeowners and businesses with expert furnace repair services. We understand how important a well-functioning furnace is during cold winter months.
For this reason, we provide same-day furnace repair. Our technicians have the training and know-how to keep you warm and comfortable with expert furnace repair in Bonney Lake, WA.
Seek a professional furnace repair when:
The furnace is no longer heating your property
Experiencing uneven heating- some rooms are cold
There is an increase in monthly heating costs
Strange sounds are coming from the furnace
Furnace Service Bonney Lake, WA
Keep your heating system working optimally and make it last longer with a furnace service plan. Regular furnace service is a great way to save money and hassles in the long run.
A typical furnace maintenance checklist includes:
Visual inspection of the system
Dust, debris removal, and filter replacement
Cleaning all components
Testing all wiring connections
Sealing leaks
We assist you with all of your furnace service needs in Bonney Lake. We can develop a customized furnace service plan for your heating system's make, model, and type. Our furnace service plan can provide you with the peace of mind that your unit is in good working condition and is ready for the winter months.
Bonney Lake Furnace Installation
If you need a new furnace installation, you have found the HVAC contractor in Bonney Lake that is committed to getting the job done to the highest professional standards. We provide honest advice in line with your needs and budget so you can make an informed furnace installation decision.
Rest assured, factory-trained and certified technicians will perform your furnace installation. We have helped many residential and commercial clients with their new furnace installation needs, and we are looking forward to helping you with yours.
With our furnace installation services, you can expect:
Quality workmanship
Outstanding customer service
Unmatched attention to detail
100% satisfaction
Feel free to call Precision Air Services HVAC at (253) 631-8826 for more information on our furnace service plans for Bonney Lake residents.